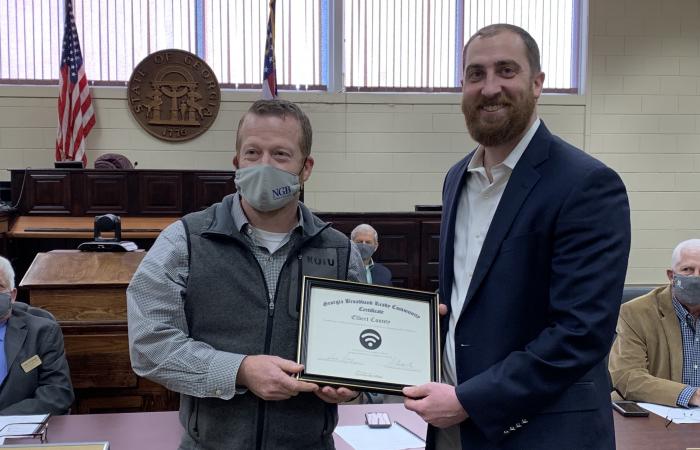 Elbert County, located in northeast Georgia, kicked off 2021 with a Broadband Ready Certification from the Georgia Department of Community Affairs. County Commission Chairman Lee Vaughn said there are few internet providers in the area, leaving many individuals, families, and businesses completely unserved. Like many communities around the state, COVID-19 exacerbated the issue known as the digital divide.
"The biggest impact has been to the students [and] online learning, both K-12 and college," he said. "Many would have to drive to town and sit in the McDonald's or Dunkin' Donuts parking lot to get Wi-Fi." Also, some working adults had to transition to teleworking which was not feasible or easy for those affected.
Therefore, the Broadband Ready Certification was a strategic move in the right direction. Chairman Vaughn said, "We know how important broadband is to the community, and we want the State to know we are serious about getting access to every resident that wants it."
He said professionals from larger cities have moved to the county to enjoy a rural lifestyle. Having countywide broadband would further incentivize others to relocate to the area.
Broadband Ready communities are recognized for demonstrating compliance with the adoption of both a Comprehensive Plan, inclusive of the promotion of deployment broadband services and the Broadband Model Ordinance. To date, 13 locations around the state (a mixture of cities and counties) are Broadband Ready.
Vaughn describes the process of pursuing the designation as "straightforward" and quick. He encourages other communities to apply, saying, "We feel that the State is committed to solving this problem and every county needs to prepare themselves to be in position to deploy whatever resources are available." Learn more about this certification, including instructions and resources, at broadband.georgia.gov.