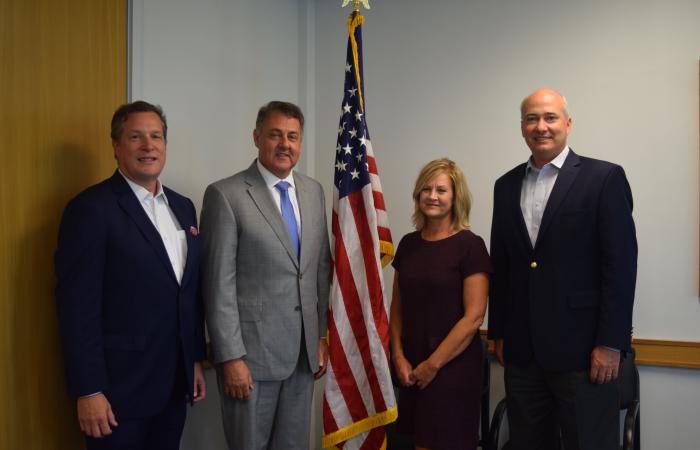 Lumpkin County is the latest community in Georgia to receive a Broadband Ready Certification from the Georgia Department of Community Affairs (DCA). Communities certified as Broadband Ready have completed the online application and demonstrated compliance with the adoption of both a Comprehensive Plan, inclusive of the promotion of deployment broadband services, and the Broadband Model Ordinance.
On Aug. 4, District 51 State Sen. Steve Gooch, DCA Commissioner Christopher Nunn, and Georgia Broadband Deployment Initiative Executive Director Deana Perry attended the Lumpkin County Board of Commissioners meeting to present the Broadband Ready award and congratulate local officials on this accomplishment.
"This is an exciting time and great opportunity to recognize Lumpkin County," Commissioner Nunn said. "You all have taken steps to incorporate broadband in your comprehensive process, eliminate obstacles at the local level, and acknowledge and demonstrate that it takes local leadership to solve this problem."
Sen. Steve Gooch, whom Commissioner Nunn described as a "tireless advocate for rural broadband," kept the Lumpkin County Commissioners and staff informed and emphasized the importance of the state broadband legislation, the ACE Act, which passed in 2018.
Sen. Gooch said, "This designation reflects that Lumpkin County is committed to improving the reliability, speed, and capacity of internet connections for businesses, residents, and visitors in Lumpkin County."
Although improvements are being made, broadband access still plagues counties across Georgia. Sen. Gooch recalled stories from people throughout District 51.
"[We] hear the same things," he said. "People have minimal service and are paying $150 a month. A lot of residents were unable to get internet access at home. In order for kids to do homework, they would have to pack them in the car and head to town and use the Chick-Fil-A or Starbucks lobby."
"Currently the broadband providers in Lumpkin County have been working to upgrade services for residents and businesses," Lumpkin County Planning Director Bruce Georgia said. "The reduction of obstacles through the Broadband Designation is essential to encourage infrastructure investment in the more rural areas of the county."
Lumpkin County Board of Commissioner Chairman Chris Dockery added, "Lumpkin County's efforts to improve broadband access goes back a decade, when Lumpkin County Government and the Development Authority of Lumpkin County partnered with the private sector and neighboring counties for a regional technology project that resulted in fiber optic infrastructure throughout the region, including Lumpkin County."
Chairman Dockery continued by saying, "Having this designation will allow Lumpkin County to react more quickly to future growth opportunities because it better positions us for grant funding, public-private partnerships, and supporting designations such as a Gigabyte site."
Sen. Gooch echoed this sentiment by acknowledging how improved broadband availability will spur economic development. Although every community has different requirements, he said, "The legislation helps to streamline the process for internet service providers and consistency around the state will lower the cost to the private sector, which has a primary responsibility to provide services to people, not just government."